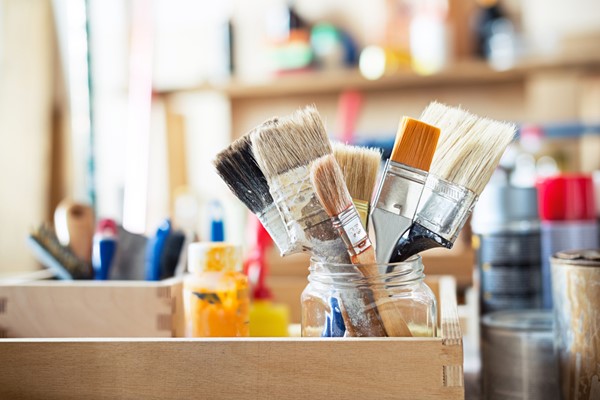 Keeping preschool-aged children busy and engaged takes some creative thinking. Having an abundance of options on hand is a must. In addition to the blocks, pretend play, puzzles and picture books there is a place for arts and crafts. Recent studies have confirmed the importance of playing in the 0-5-year-old age range. Crafting can help not only with the development of fine and gross motor skills but also with creative problem solving and expressing and communicating their emotional health. Having some basics on hand at all times can help stave off boredom and reduce screen time during those critical first five years.
Their Own Stuff
The crafting industry is vast and can be somewhat of a money pit for intense crafters. You may not want to share those supplies you have spent considerable money to purchase with your little one(s). In that case, you will need to stock up where you get the most for your money. For example, picking up holiday specific craft supplies when they go on clearance. Store them well marked and use them the next time that holiday comes around. Buy in bulk and split the cost with a friend. Many craft supply online stores offer bulk pricing. Host a craft supply exchange amongst other preschooler families, this can keep you supply fresh with variety.
Just the Basics Ma'am
If you are just starting your preschoolers crafting supply, keep in mind your preschooler's skill level. Also, keep in mind some items need extra supervision due to a choking hazard. You can start your collection at your local dollar store for a few basics.
- Construction paper
- Large glue sticks
- Washable crayons/markers
- Round-tipped scissors
- Foam shapes stickers
- Craft sticks (popsicle sticks)
- Pipe cleaners
- Modeling clay
- Paper lunch bags
- White paper plates
You can also browse your favorite thrift store for over-sized t-shirts to use as art smocks and flat sheets to use drop cloths. You can also find other items to use as craft supplies like picture frames, clay pots or skeins of yarn.
Now What?
There are endless websites and blogs to use for inspiration and ideas for craft time with your preschooler. You can choose to go with a theme like zoo animals or camping and focus all creative projects on that for a few days. Or decide to do crafts that reflect the season of the year you are currently experiencing. Really, any time you spend being creative with your preschooler can be fun and an opportunity to learn from creative play.
Before the next rainy day forecast gather some supplies put them in a box and plan an arts and crafts time surprise for your preschooler.